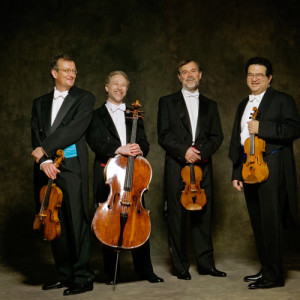 The Endellion String Quartet celebrates its 35th year in the 2013-2014 season. Commenting on a recent release by Warner Classics of a Haydn CD, Gramophone summed up a glowing review by saying:
"There's always a feeling when listening to the Endellion Quartet that you're listening to the Urtext method of quartet playing. Maybe 35 years of playing together has brought to them as a group a uniformity of thought and instinct that allows them to play as a single entity." (March 2013)
Following their Beethoven cycle in February 2013 of six concerts in New York's Metropolitan Museum of Art, they will give a concert presented by New York's Carnegie Hall. Other recent and future engagements include concerts in South America, Canada, USA, Turkey, Switzerland, Holland, and other European countries. Warner Classics are releasing Britten's quartets in a new version by the Endellions in November 2013 and further recordings are planned. The Endellions will continue their prestigious Residency at Cambridge University (now in its twenty-second year) and will present a further series at Wigmore Hall, as well as participating in the International Chamber Music Series at QEH London.
The Endellion is renowned as one of the finest quartets in the world. Over the years, its schedule has included regular tours of North and South America and concerts in Australasia, the Far East, the Middle East, South Africa and every West European country. Everywhere, the Endellion String Quartet 'sets the audience ablaze' (Daily Telegraph) and 'captivates concertgoers with a remarkable rapport, playing to each other with a sense almost of discovery, communicating to the audience on a level of unusual intimacy' (Guardian).
In Britain, the Endellion String Quartet has appeared at nearly all of the major series and festivals and has broadcast many times on BBC radio and television; it has appeared at the Proms and it has been featured in the week-long programmes 'Artist of the Week' and 'Artists in Focus'. Its presence in London has been marked by several series both at the Southbank Centre and Wigmore Hall, where the Quartet members were Artistic Directors of several 'Quartet Plus' series. They have worked with guest artists including members of the former Amadeus Quartet, Sir Thomas Allen, Joshua Bell, Michael Collins, Steven Isserlis, Mitsuko Uchida and Tabea Zimmermann. In 1996 the quartet were winners of the Royal Philharmonic Society Award for Best Chamber Ensemble.
In addition to its Cambridge University Residency, the Endellion String Quartet has undertaken three short-term residencies at the Massachusetts Institute of Technology (MIT) in the USA. Since 2004 it has had a Spring Residency at The Venue, Leeds. From 2001 to 2010 it was Associate Quartet of the RNCM; and 2011 saw the start of its position as Visiting Quartet in Association with the Guildhall School of Music and Drama.
The Endellion's 1987 recording for EMI of the complete string chamber music of Britten was selected as Chamber Music Recording of the Year by both the Daily Telegraph and The Guardian, and was the most highly recommended version in Radio 3's Record Review. Their Haydn Op 54 disc – the first of a series for Virgin Classics – was the only quartet record featured in Radio 3's Critics' Choice of Records of the Year. The Endellions have also recorded Mozart, Bartok, Dvorak, Smetana, Foulds, Walton, Bridge, Schubert, Barber, Amy Beach and Tchaikovsky. In 1998 EMI released 'Arcadiana', the Endellion Quartet's commission from Thomas Adès, on a disc that subsequently received the 'Editor's Choice' award in the 1998 Gramophone Awards.
The Endellion's release of the complete Beethoven quartets and viola quintets (supported by The Stradivari Trust) is notable for including rarely heard works, movements, studies, and fragments for quartet and quintet, as well as Beethoven's complete early version of Op.18 No.1 and his remarkable quartet arrangement of his Piano Sonata Op.14 No.1. The texts used in these recordings have been prepared by the notable Beethoven scholar and editor, Jonathan Del Mar, in collaboration with the Endellion String Quartet. These texts are gradually being published by Bärenreiter, and include striking restorations of Beethoven's original notes, harmonies, rhythms, slurring, articulations, and expression marks, using newly available sources.
"…these superb musicians respond to the dark undertow so characteristic of Beethoven's quartets as much as the gentle lyricism which invariably breaks through. The rest of this cycle is a mouth-watering prospect." The Observer (on Beethoven String Quartets Vol.2)
The New Grove Dictionary of Music and Musicians (2000) concludes that "The Endellion is arguably the finest quartet in Britain, playing with poise, true intonation, excellent balance and a beautiful tone. In music of the Viennese Classical composers it has few challengers but it has won praise in a wide repertory, its Beethoven and Bartók cycles being especially admired."