Elias String Quartet/Sam Haywood
Friday 15.9.17 7.30pm
St Thomas Church, Lymington
Programme
MOZART Piano Quartet in E flat major
WEBERN Langsamer Satz
Interval
BRAHMS Piano Quintet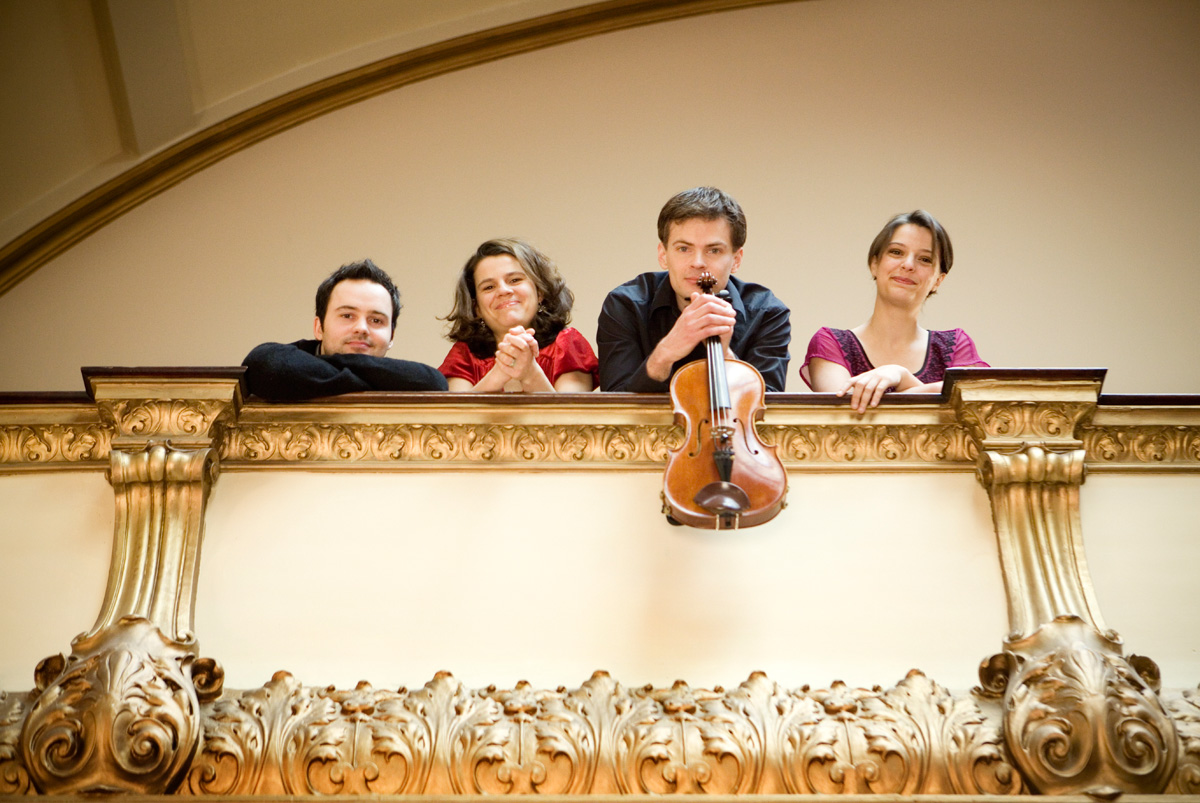 Our fabulous quartet-in-residence the Elias Quartet will be joined by Sam Haywood for two of the greatest chamber works for piano and strings. They will also perform an early, tonal quartet movement by the Austrian composer Anton Webern, written at the age of twenty one and inspired by a hiking trip with his future wife.
Elias String Quartet
The Elias String Quartet is internationally acclaimed as one of the leading ensembles of their generation. Known for their intense and vibrant performances, the quartet has travelled the globe collaborating with some of the finest musicians and playing in the world's great halls.
2015 sees them complete their groundbreaking Beethoven Project: performing and recording the complete string quartets of Beethoven. Broadcast by BBC Radio 3 and performed in 11 major venues in the UK, the Quartet have also recorded the cycle for the "Wigmore Hall Live" record label. Six albums in total, the first was released in January 2015. The Elias will soon take all-Beethoven programmes to Carnegie Hall (New York) and San Francisco Performances. They have documented their journey on a dedicated website supported by the Borletti-Buitoni Trust: www.thebeethovenproject.com.
Highlights of 2014/2015 include a month long tour of the USA and Canada, their debut at the Theatre des Champs-Elysees in Paris, a return to The Concertgebouw in Amsterdam and concerts in Turkey, Holland, Belgium and Germany.  They continue residencies with Glasgow Concert Halls, Turner Simms Concert Hall (Southampton) and The Brighton Festival. The Quartet will premiere a work written for them by young British composer Emily Howard at the Wigmore Hall and collaborate with various artists including Jonathan Biss, Francois-Rene Duchable and the Kungsbacka Trio.
The Quartet was chosen to participate in BBC Radio 3's New Generation Artists' Scheme 2009-11 and is the recipient of a 2010 Borletti-Buitoni Award. They were awarded the 2010 BBC Music Magazine's Newcomer of the Year Award and were nominated in 2013 and 2014 for an RPS Award and in 2014 for an Australian Art Music Award. In 2013 they were awarded a Mentoring Scholarship from the Beethoven-Haus in Bonn. They received 2nd prize and the Sidney Griller Prize at the 9th London String Quartet Competition. They have performed in some of the world's most prestigious venues including the Vienna Musikverein, Berlin Konzerthaus, Amsterdam Concertgebouw, New York's Carnegie Hall, the Washington Library of Congress and the Wigmore Hall in London. The 13/14 Season saw the quartet take on major tours to the USA, Australia and Sweden as well as further performances across Europe in Vienna, Salzburg, Amsterdam, Luxembourg, Bonn, Venice and Padua.
They have performed alongside such artists as Leon Fleisher, Michael Collins, Christian Zacharias, Pascal Moragues, Ralph Kirshbaum, Dame Anne Murray, Joan Rogers, Mark Padmore, Michel Dalberto, Peter Cropper, Malin Broman, Simon Crawford-Philips, Piers Lane, Ettore Causa, Anthony Marwood, Huw Watkins, Roderick Williams, Allan Clayton, Melvyn Tan and the Endellion, Vertavo, Navarra, Heath, Belcea and Jerusalem Quartets.
The Elias are passionate about new music and have premiered pieces by Sally Beamish, Colin Matthews, Matthew Hindson and Timo Andres. They worked with Henri Dutilleux on his string quartet "Ainsi la Nuit" and recently recorded Huw Watkin's "In My Craft or Sullen Art " with Mark Padmore for NMC label.
The Quartet is steadily building a recording catalogue that has been met with widespread critical acclaim. Alongside three releases on the Wigmore Live label they have released discs of Mendelssohn and Britten. They have also released a disc of French harp music with harpist Sandrine Chatron for the French label Ambroisie, Goehr's Piano Quintet with Daniel Becker for Meridian Records and most recently Schumann and Dvorak Piano Quintets with Jonathan Biss.
The Quartet take their name from Mendelssohn's oratorio, Elijah, of which Elias is the German form. They formed at the Royal Northern College of Music in Manchester where they worked closely with the late Dr. Christopher Rowland and later became Junior Fellows and Associate Quartet.  They also spent a year studying at the Hochschule in Cologne with the Alban Berg String quartet. Other mentors in the quartet's studies include Peter Cropper, Hugh Maguire, Gyorgy Kurtag, Gabor Takacs-Nagy and and Rainer Schmidt.  For four years they were resident string quartet at Sheffield's "Music in the Round" as part of Ensemble 360, taking over from the Lindsay Quartet.
Sam Haywood
Sam Haywood has performed to critical acclaim in many of the world's major concert halls. The Washington Post hailed his 'dazzling, evocative playing' and 'lyrical sensitivity' and the New York Times his ''passionate flair and sparkling clarity'. He embraces a wide spectrum of the piano repertoire and is equally at home as a soloist, chamber musician or with accompanying Lieder. He has had a regular duo partnership with Joshua Bell since 2010 and also often performs with cellist Steven Isserlis.
He has recorded two solo albums for Hyperion, one featuring the piano music of Julius Isserlis (grandfather of Steven Isserlis) and the other Charles Villiers Stanford's preludes. He is passionate about period instruments and has made a recording on Chopin's own Pleyel piano.
In 2013 Haywood co-founded Solent Music Festival in UK. The annual Lymington-based festival features highly varied programmes by internationally-renowned artists with projects in the local community. Artists have included the Bournemouth Symphony Orchestra, Alina Ibragimova, Mark Padmore and the Endellion Quartet.
He was mentored by David Hartigan, Paul Badura-Skoda and Maria Curcio. Following his early success in the BBC Young Musician of the Year competition, the Royal Philharmonic Society awarded him the Julius Isserlis Scholarship. He studied both at the Universität für Musik und darstellende Kunst in Vienna and at the Royal Academy of Music in London, of which he is an associate (ARAM).
Haywood enjoys working with young musicians. He has written a children's opera and is regularly involved in family concerts, workshops and master classes. His 'Song of the Penguins' for bassoon and piano, is published by Emerson Editions. He is also the inventor of memorystars® which can significantly reduce the time needed to memorise a music score, or indeed any printed text.
Other passions include literature, physics, natural history, technology, magic, fountain pens and table tennis.
samhaywood.com