Steven Isserlis and Friends
Sunday 23.9.2018 | 4pm
St Thomas Church, Lymington
Programme
BRAHMS Scherzo in C minor
SCHUMANN (arr. Isserlis for piano trio) Violin Concerto, 2nd Movement
FAURÉ String Quartet
MESSIAEN Vocalise
BEETHOVEN Cello Sonata in A major, Op. 69
Anthony Marwood, violin
Irène Duval, violin
Eivind Holtsmark Ringstad, viola
Steven Isserlis, cello
Sam Haywood, piano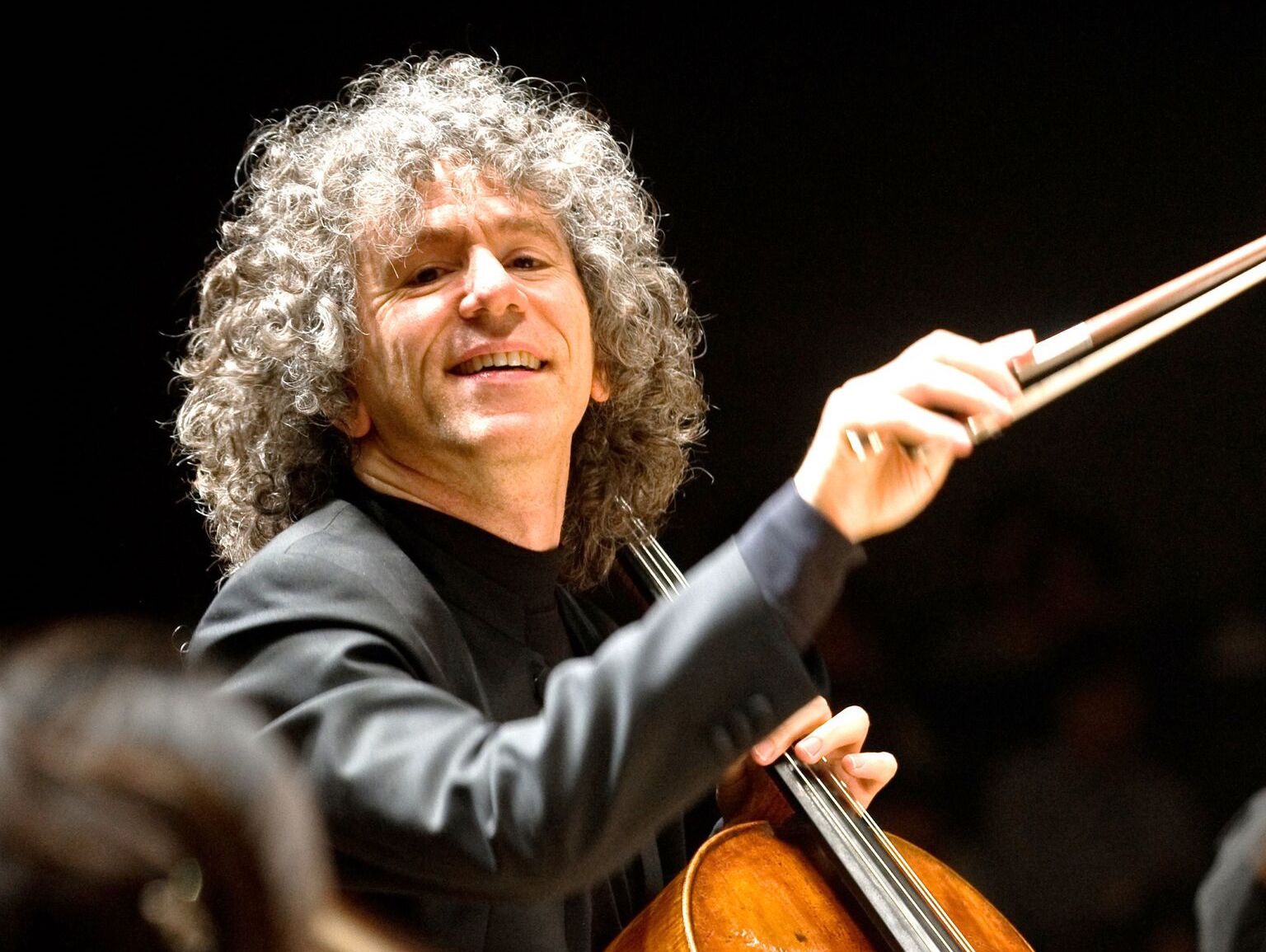 Anthony Marwood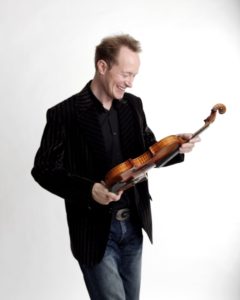 British violinist Anthony Marwood is known worldwide as an artist of exceptional expressive force. His energetic and collaborative nature places him in great demand as soloist/director with orchestras worldwide. He is Principal Artistic Partner of the celebrated Canadian chamber orchestra, Les Violons du Roy, a post he took up in 2015. In the 16/17 season, he was Artist in Residence at the Norwegian Chamber Orchestra. His eminence as a soloist has brought him to work with conductors such as Valery Gergiev, Sir Andrew Davis, Thomas Søndergård, David Robertson, Gerard Korsten, Ilan Volkov, Jaime Martin, Bernard Labadie and Douglas Boyd.
In recent years, engagements have included the Boston Symphony, St Louis Symphony and Vienna Radio Symphony, as well as the New Zealand and Tasmanian Symphony Orchestras and the Australian Chamber Orchestra. Last season included performances of Kurt Weill's concerto with the Royal Philharmonic Orchestra of Galicia, play/direct projects with the Aurora Orchestra at London's Royal Festival Hall and with the Adelaide Symphony Orchestra, a return to the Amsterdam Sinfonietta for a tour of the Netherlands, and a performance of Brahms's Double Concerto with Alexander Rudin and Musica Viva Moscow.
Marwood is a renowned champion of contemporary music, alongside more traditional repertoire. Among those new works composed for him is Thomas Adès' Violin Concerto "Concentric Paths". Marwood first performed the work in Berlin and at the BBC Proms with the Chamber Orchestra of Europe conducted by the composer, following these performances with many national premieres around the globe and a release on EMI in 2010; last season, he performed it with the Leipzig Gewandhaus Orchestra under Andrew Manze. Also composed for Marwood were Steven Mackey's "Four Iconoclastic Episodes", premiered in 2009 with the Irish Chamber Orchestra, and Sally Beamish's 1995 violin concerto, premiered by Marwood with the BBC Scottish Symphony Orchestra under Martyn Brabbins. The most recent work written for Marwood is Samuel Adams' Violin Concerto, premiered in 2014 by the Berkeley Symphony in California under Joana Carneiro to critical acclaim.
The 17/18 season includes a tour with the Scottish Chamber Orchestra, play/direct engagements with the Sydney Symphony and Tapiola Sinfonietta in Helsinki, debuts with the Gävle Symphony Orchestra (Adès concerto) and Jacksonville Symphony (Berg) and two concerto appearances with the Chamber Orchestra of Paris (Beethoven and Berg).
As a chamber musician, Marwood is a frequent participant at major chamber music festivals, with recent appearances including Vinterfest in Sweden, the Trondheim Chamber Music Festival and Bridgehampton Festival in New York. His recital partners include pianist Aleksandar Madžar, with whom he toured the US last season, and accordionist James Crabb, with whom he appeared at Wigmore Hall in 2015. Marwood returns to the Wigmore Hall in the current season to join musical colleagues for the octets of Mendelssohn and Enescu.
Anthony Marwood's most recent release – his 50th on the Hyperion label – is a recording of Walton's Violin Concerto with the BBC Scottish Symphony Orchestra and Martyn Brabbins. The disc has received critical acclaim, including a 5-star review in The Guardian and Classical Source and a 'Recommended Recording' in The Strad Magazine, whilst the Sunday Times hailed Marwood as "a thrilling, virtuosic soloist". Other recent releases for Hyperion include Schumann's late works for violin and orchestra and Britten's Violin and Double Concertos, both with the BBC Scottish Symphony Orchestra. Marwood's recording of Schumann's violin sonatas, recorded with Aleksandar Madžar on the award-winning Wigmore Live label, was described by International Record Review as "exemplary in every way", and followed on from the duo's acclaimed recording of the Brahms violin sonatas on the same label.
Another facet of Marwood's career is genre-bending presentations, such as the Academy of St Martin in the Fields' fully-staged production of Stravinsky's "A Soldier's Tale", in which Marwood acted the role of the Soldier and played the violin part. He also enjoyed a successful collaboration with award-winning Indian classical dancer Mayuri Boonham.
Born in London, Anthony Marwood studied with Emanuel Hurwitz at the Royal Academy of Music, David Takeno at the Guildhall School of Music, and took lessons from Sándor Végh and Daniel Phillips at IMS Prussia Cove. He was named Instrumentalist of the Year by the Royal Philharmonic Society in 2006 and was the violinist of the Florestan Trio for sixteen years. He is co-Artistic Director of the Peasmarsh Chamber Music Festival in East Sussex, performs annually at the Yellow Barn Festival in Vermont, and enjoys a close association with the Australian National Academy of Music in Melbourne. Marwood was appointed a Fellow of the Guildhall School of Music in 2013. He was appointed an MBE in the 2018 Queen's New Year's Honours List. He plays a 1736 Carlo Bergonzi violin, kindly bought by a syndicate of purchasers.
Irène Duval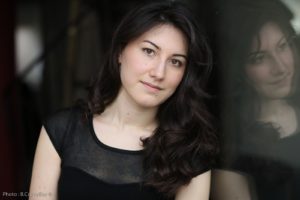 Violinist Irène Duval was born in 1992 to a french father and korean mother, and has been praised for her "infinite delicacy" (Le Populaire du centre), "astonishing virtuosity" (Revelation Classiques, Prades) and "her mastering of phrasing and of the dramatic dimension"(Diapason). Winner of multiple national and international competitions and an active performer of concerti, recitals and chamber music, Irène Duval is establishing herself as a compelling and versatile performer.
Irène Duval has appeared frequently as a soloist both throughout her native France and abroad. Her engagements have included performances with the Kremerata Baltica, the Dresdner Philharmonie and conductor Michael Sanderling at the Kulturpalast in Dresden,with the Sinfonia Varsovia at the Folle Journée de Nantes conducted by Maxim Emelyanichev and in La Folle Journée of Japan conducted by Robert Trevino,with l'Orchestre de la Garde Républicaine,the Chursaesische Philharmonie of Bad Elster, the Orchestre Lyrique de Région Avignon Provence at l'Opéra Théâtre d'Avignon, with l'orchestre de Caen, l'Orchestre d'Auvergne……
Irène regularly plays recitals and chamber music with the pianist Pierre-Yves Hodique, cellist Aurélien Pascal, and forms the duo La Rose et le Réséda with violinist Virgil Boutellis. During the "Chamber Music Connects the World" festival, she has performed with Gidon Kremer, Steven Isserlis, Christian Tetzlaff and Mate Bekavac.
In 2009 and 2010, Irène won numerous competition prizes including the 1st prize and the public prize at the International Violin Competition of Avignon. She also won two special prizes at the 1st edition of the International Violin Competition in Mirecourt, the prize for "most exceptional personality" and the prize for the "best interpretation of a French sonata" for her performance of the Poulenc sonata. In May 2011, Irène was awarded the 1st prize at the 46th International Instrumental Competition in Markneukirchen for her performance of the Beethoven violin concerto, as well as the "Manfred-Scherzer" prize for her outstanding interpretation of a piece by Reger. Her performance of the Beethoven concerto received accolades from the media, the jury and the public alike. The German Free Press wrote that it was a "Beethoven from heaven" and that her sound in the second movement was "like the music of the angels" (16.05.2011 Beethoven im Paradies, Deutsche Freie Presse).
In 2012, Irène received the Appassionato Joël Klépal prize in Caen and was given a generous grant from the Meyer Fondation. She has been supported by the SAFRAN Foundation for music, the Fondation de l'Or du Rhin and since 2013 she has been a laureate of the Fondation d'Entreprise Banque Populaire.
Irène began studying the violin at the age of seven in Hong Kong. Back in France in 2003, she then studied with Jean-Jacques Kantorow, Suzanne Gessner, and at CNSM of Paris with Roland Daugareil and Daria Hovora. In 2013, she completed her Master's degree with distinction.
Since 2014, she perfects her playing with Mihaela Martin in Further Master Studies at Kronberg Academy, and receives artistic advice from internationally renowned musicians.
Her first CD "Poèmes" recorded with Pierre-Yves Hodique for Mirare/Harmonia Mundi, was released last September. Works of Poulenc, Szymanowski, Chausson, Fauré and Ernst.
Irène plays a Jean-Baptiste Vuillaume violin of 1850, a copy of the Sancy Stradivarius, which is on loan to her by a private sponsor.
Eivind Holtsmark Ringstad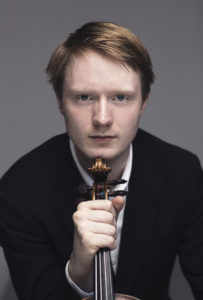 Eivind Holtsmark Ringstad is the latest talent to emerge from a new, golden generation of Scandinavian musicians. In 2016 he was chosen to join the world's most prestigious training programme for experienced classical musicians: the BBC's New Generation Artists Scheme.
Previously, Eivind has been selected as a Borletti-Buitoni fellow and a member of the Crescendo mentorship programme initiated by the Bergen Philharmonic Orchestra and the Barratt Due Institute, under the guidance of Leif Ove Andsnes. He has also received the Arve Tellefsen Prize, the Øyvind Berghs Memorial Prize, the Karoline Prize and the Statoil Award. In 2012 he was named Eurovision Young Musician in Vienna.
In the Nordic region, Eivind's career is on the ascendant. In the 2016-2017 season he made his debut with the Oslo Phil and the Norwegian Chamber Orchestra, BBC Northern Ireland, BBC Philharmonic as well as London Sinfonietta. This season includes debut in Wigmore Hall as well as performances with BBC Concert Orchestra and BBC Wales.
Eivind is a prolific chamber musician and has been a regular fixture on Norway's thriving chamber music scene for some years. He regularly appears at the Bergen International Festival but is also a regular guest at Prussia Cove and Baroniet Rosendal. He has collaborated with some of the most distinguished chamber musicians around, among them Leif Ove Andsnes, Janine Jansen, Alisa Weilerstein, Jonathan Biss, Henning Kraggerud, Christian Ihle Hadland, Lars Anders Tomter, Itamar Golan and Håvard Gimse.
Eivind was born in 1994 and he started to play the violin at the age 5, moving to the viola as his main instrument nine years later. He plays a Guadagnini instrument dating from 1768, kindly on loan from Dextra Musica.
Steven Isserlis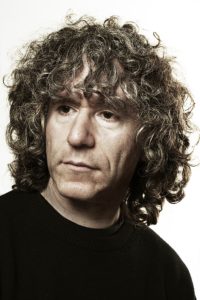 Acclaimed worldwide for his profound musicianship and technical mastery, British cellist Steven Isserlis enjoys a unique and distinguished career as a soloist, chamber musician, educator, author and broadcaster.
As a concerto soloist he appears regularly with the world's leading orchestras and conductors, including the Berlin Philharmonic, National Symphony Orchestra Washington, London Philharmonic and Zurich Tonhalle orchestras. He gives recitals every season in major musical centres, and plays with many of the world's foremost chamber orchestras, including the Australian, Mahler, Norwegian, Scottish, Zurich and St Paul Chamber Orchestras, as well as period-instrument ensembles such as the Orchestra of the Age of Enlightenment and Philharmonia Baroque Orchestra. Unusually, he also directs chamber orchestras from the cello in classical programmes.
Recent and upcoming highlights include performances with the Gewandhausorchester Leipzig, Vienna Philharmonic Orchestra at the Salzburg Mozartwoche; the US premiere of Thomas Adès's Lieux retrouvés with the Los Angeles Philharmonic, following world and UK premieres in Lucerne and at the BBC Proms, and a further performance of the work in Amsterdam with the Britten Sinfonia, conducted by the composer; Prokofiev's Concerto Op. 58 with the London Philharmonic Orchestra under Vladimir Jurowski, in London and at the Dresden Music Festival; and Haydn's C major Concerto with the Orchestra of the Age of Enlightenment under Adam Fischer.
As a chamber musician, he has curated series for many of the world's most famous festivals and venues, including the Wigmore Hall, the 92nd St Y in New York, and the Salzburg Festival. These specially devised programmes have included 'In the Shadow of War', a major four-part series for the Wigmore Hall to mark the centenary of the First World War and the 75th anniversary of the Second World War; explorations of Czech music; the teacher-pupil line of Saint-Saëns, Fauré and Ravel; the affinity of the cello and the human voice; varied aspects of Robert Schumann's life and music; and the music of Sergei Taneyev (teacher of Steven's grandfather, Julius Isserlis) and his students. For these concerts Steven is joined by a regular group of friends which includes the violinists Joshua Bell, Isabelle Faust, Pamela Frank, and Janine Jansen, violist Tabea Zimmermann, and pianists Jeremy Denk, Stephen Hough, Alexander Melnikov, Olli Mustonen, Connie Shih, and Dénes Várjon.
He also takes a strong interest in authentic performance. This season's projects include a recording of the Chopin Cello Sonata and other works with Dénes Várjon for Hyperion, using ones of Chopin's own piano; and a recital of Russian sonatas with Olli Mustonen. In recital, he gives frequent concerts with harpsichord and fortepiano. Recent seasons have featured a special performance with Sir Andras Schiff at the Beethovenhaus in Bonn, using Beethoven's own cello; and performances and recordings (selected for the Deutsche SchallplattenPreis) of Beethoven's complete music for cello and piano with Robert Levin, using original or replica fortepianos from the early nineteenth century. With harpsichordist Richard Egarr, he has performed and recorded the viola da gamba sonatas of J.S. Bach as well as sonatas by Handel and Scarlatti. This season, they tour together in the US.
He is also a keen exponent of contemporary music and has premiered many new works including John Tavener's The Protecting Veil (as well as several other pieces by Tavener), Thomas Adès's Lieux retrouvés, Stephen Hough's Sonata for Cello and Piano, Left Hand (Les Adieux), Wolfgang Rihm's Concerto in One Movement, David Matthews' Concerto in Azzurro, and For Steven and Hilary's Jig by György Kurtág. In 2016, he gave the UK premiere of Olli Mustonen's of Frei, aber einsam for solo cello at the Wigmore Hall.
Writing and playing for children is another major enthusiasm. He has written the text for three musical stories for children – Little Red Violin, Goldiepegs and the Three Cellos, and Cindercella – with music by Oscar-winning composer Anne Dudley; these are published by Universal Edition in Vienna. He has also given many concerts for children, for several years presenting a regular series at the 92nd Street Y in New York. Steven Isserlis' books for children about the lives of the great composers – Why Beethoven Threw the Stew and its sequel, Why Handel Waggled his Wig – are published by Faber and Faber, and have been translated into multiple languages. His latest book, a commentary on Schumann's famous Advice for Young Musicians, was published by Faber and Faber in September 2016, and will be published in the US by Chicago University Press this season.
As an educator Steven Isserlis gives frequent masterclasses all around the world, and since 1997 he has been Artistic Director of the International Musicians' Seminar at Prussia Cove in Cornwall, where his fellow-professors include Sir Andras Schiff, Thomas Adès and Ferenc Rados.
As a writer and broadcaster, he contributes regularly to publications including Gramophone, The Daily Telegraph and The Guardian, has guest edited The Strad magazine, and makes regular appearances on BBC Radio including on the Today programme, Soul Music, as guest presenter of two editions of Saturday Classics, and as writer and presenter of a documentary about the life of Robert Schumann. Most recently, he presented a documentary on BBC Radio 4 'Finding Harpo's Voice', about his hero Harpo Marx.
His diverse interests are reflected in an extensive and award-winning discography. His recording of the complete Solo Cello Suites by J.S. Bach for Hyperion met with the highest critical acclaim, and was Gramophone's Instrumental Album of the Year and Critics' Choice at the Classic BRITS. Other recent releases include the Elgar and Walton concertos, alongside works by Gustav and Imogen Holst, with the Philharmonia Orchestra and Paavo Järvi; Prokofiev and Shostakovich concertos with the Frankfurt Radio Symphony, also under Paavo Järvi; Dvořák's Cello Concertos with the Mahler Chamber Orchestra and Daniel Harding; and recital discs with Stephen Hough, Thomas Adès and (for BIS) a Grammy-nominated album of sonatas by Martinů, as well as works by Mustonen and Sibelius, with Olli Mustonen. His latest recordings include the Brahms Double Concerto with Joshua Bell and the Academy of St Martin in the Fields, and – as director and soloist – concertos by Haydn and CPE Bach, with the Deutsche Kammerphilharmonie Bremen. Forthcoming recordings include a special First World War-inspired disc with Connie Shih, including works performed on a travel cello – now known as "the Trench Cello" – played in the trenches by WWI soldier Harold Triggs.
The recipient of many awards, Steven Isserlis's honours include a CBE in recognition of his services to music, the Schumann Prize of the City of Zwickau, and the Piatigorsky Prize in the USA. He is also one of only two living cellists featured in Gramophone's Hall of Fame. In 2017, he was awarded the Glashütte Original Music Festival Award in Dresden, the Wigmore Hall Gold Medal, and the Walter Willson Cobbett Medal for Services to Chamber Music.
He gives most of his concerts on the Marquis de Corberon (Nelsova) Stradivarius of 1726, kindly loaned to him by the Royal Academy of Music.
Sam Haywood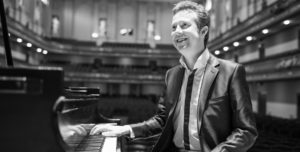 Sam Haywood has performed to critical acclaim in many of the world's major concert halls. The Washington Post hailed his 'dazzling, evocative playing' and 'lyrical sensitivity' and the New York Times his 'passionate flair and sparkling clarity'. He embraces a wide spectrum of the piano repertoire and is equally at home as a soloist, chamber musician or with accompanying Lieder. He has had a regular duo partnership with Joshua Bell since 2010 and often performs with cellist Steven Isserlis.
He has recorded two solo albums for Hyperion, one featuring the piano music of Julius Isserlis (grandfather of Steven Isserlis) and the other Charles Villiers Stanford's preludes. His enthusiasm for period instruments led to a recording on Chopin's own Pleyel piano.
In 2013 Haywood co-founded Solent Music Festival in UK. The annual Lymington-based festival features highly varied programmes by internationally-renowned artists with projects in the local community. Artists have included the Bournemouth Symphony Orchestra, Alina Ibragimova, Mark Padmore and the Endellion Quartet.
He was mentored by David Hartigan, Paul Badura-Skoda and Maria Curcio. Following his early success in the BBC Young Musician of the Year competition, the Royal Philharmonic Society awarded him the Julius Isserlis Scholarship. He studied both at the Universität für Musik und darstellende Kunst in Vienna and at the Royal Academy of Music in London, of which he is an Associate (ARAM).
Haywood has written a children's opera and is regularly involved in family concerts, workshops and master classes. He is on the roster of Musical Orbit, the online teaching website and his invention 'memorystars®' can significantly reduce the time needed to memorise a music score.
His other passions include literature, physics, natural history, technology, magic, fountain pens and table tennis.