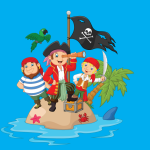 Saturday 19 September 2015, 11.30am-1pm
St Thomas Church, Lymington
Come along to St Thomas Church on Saturday 19th September to Percy Parrot's Musical Sea Adventures. Percy will be joined by musicians/pirates Jo Parker (violin), Katherine Spencer (clarinet) and the A-Sharp Trio – Aviva (11), Amos (13) and Anoushka Sharp (15), fresh from their Royal Festival Hall debut.
It will be all hands on deck as we explore together how to enjoy classical music in a different way. We'll be learning body percussion whilst on a rocking ship with Bach's music helping us with our ship chores; we'll be painting and drawing the watery stories of Mozart's music and composing and singing a new seascape for our Percy to fly about to. The amazing 15 year-old composer/cellist Anoushka Sharp will be also be performing a movement of her piano trio. All pirates, mermaids and sea monsters welcome!
Adults £5, kids go free – must be accompanied by an adult.


Brown Paper Tickets Ticket Widget Loading…

Click Here to visit the Brown Paper Tickets event page.