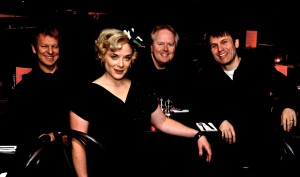 'The Queen of Swing!' – Ian Shaw
'Kai is one of the most authentic sounding vocalists on the scene today – and puts her music across with great swing, talent and entertainment ' – Ray Gelato
With DO IT WHILE YOU CAN, international singing sensation Kai Hoffman takes her listeners on an intimate and sometimes cheeky journey through lovers, litigation and loss – whilst proving that contagious laughter really is the best medicine.
Joined by Gunther Kurmayr, piano (Ray Gelato Giants), Geoff Gascoyne, bass (Jamie Cullum) and Sebastiaan de Krom, drums (Herbie Hancock, Kurt Elling), Kai Hoffman's DO IT WHILE YOU CAN is a whirlwind of emotions, wishful to WILD, effortlessly capturing the energy of a live performance. From Fran Landesmann's rather naughty Some Boys to the strength of the Propellerhead's History Repeating, Pure Imagination's beauty to Kai's toe-tapping title track, DO IT WHILE YOU CAN is a masterful showcase of vocal and instrumental talent.
Resident at Ronnie Scott's since 2008, Kai Hoffman has received rave reviews from audiences at London's finest jazz clubs and festivals around the world. Kai will be touring the new material throughout 2013 in the UK and abroad – see kaihoffman.co.uk for details.