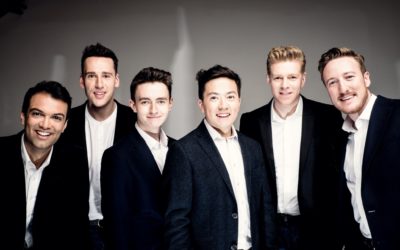 Wednesday 13 September | 7.30pm
The King's Singers
Message from our Artistic Director
I'd like to share this paragraph from an inspiring address by Karl Paulnack to freshmen at the Boston Conservatory.
"If we were a medical school, and you were here as a med student practicing appendectomies, you'd take your work very seriously because you would imagine that some night at two AM someone is going to waltz into your emergency room and you're going to have to save their life. Well, my friends, someday at 8 PM someone is going to walk into your concert hall and bring you a mind that is confused, a heart that is overwhelmed, a soul that is weary. Whether they go out whole again will depend partly on how well you do your craft."
This is so true, I feel. Music can be of enormous benefit to health, both mentally and physically. I sincerely hope that you will leave our festival concerts 'whole' – and also refreshed, inspired and energised!
Looking forward to seeing you in September,

What people are saying
"Festival was a great joy."
Michael and Jenifer      
"Brilliant music festival. Thanks to organisers and sponsors. Look forward to next year's!"
Frances  
"Wonderful festival! Looking forward to next year!"
Maureen
"Thank you for bringing such talent to Lymington for us to enjoy."
Janet  
Excellent performers and a wonderful programme.
Peter
"The great music was of course the highlight, but we also enjoyed being in the church at Lymington, and the friendliness of fellow audience members who were happy to welcome us even though we were from out of the area."
Olivia  
I particularly enjoyed having top class music right on our doorstep and that the concerts were in a more intimate space than music of this quality is usually performed in. It was simply fantastic.
Sally